Series 780 Heavy Duty Resilient Mounts
for Main Propulsion Engines
[ Home ] [ Up ] [ Dimensions and Load Rating ]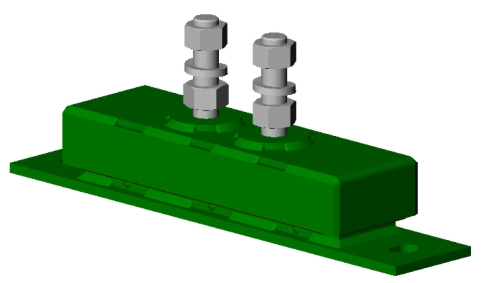 Heavy Duty Design: Series 780 isolators are the only resilient mounts available that are capable to withstand the full propeller thrust of 1000 HP to 1500 HP engines. For added safety protection, all the resilient load elements are oil resistant neoprene rubber and protected by welded steel housing.

Typical Applications:

Caterpillar 3412

DDA 12V-71

DDA 12V-92

MTU 12V

Easy to Install: The leveling studs eliminate the shimming task, and make alignment quick and easy.

Superior Isolation Efficiency: Based on the similar design of our successful Series 730 resilient mounts, the series 780 resilient mounts are tuned to obtain the optimum results in vibration and noise reductions.

Applications: Series 780 resilient mounts are designed for large yacht, cruise boat, and work boat installations, where heavy load, continuous operation, and sever conditions are often encountered.

Options: Stainless steel leveling studs are available for extra corrosion resistance.